Our Cognos business partner line-up is impressive and continually growing. We select only the 'best of the best' Cognos solution providers to partner with. Most are Cognos Pinnacle Partners – proven BI leaders in their respective markets. All of them have been fully trained in Envisn's solutions, assuring customers expert knowledge on our products.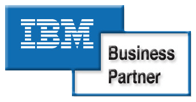 Envisn partners with Cognos, the world leader in Business Intelligence (BI), to deliver solutions that help connect people to their business. As a Cognos Technology Partner you can be sure our products are fully interoperable with all Cognos BI products. To learn more about the Cognos BI solutions and how they can help your company, take a moment to visit Cognos.
Envisn's products are also sold throughout the world by our partners listed below. Please go to their website and contact them for more information.