Cognos Custom Query Library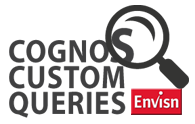 As powerful as the analytics capability is within NetVisn, there are still some things that customers have identified as needed information that it does not yet provide. For these situations custom queries into the NetVisn database are an option to provide this information. We have created metadata custom queries for a number of our NetVisn customers, and since many of these may be useful to all customers, we have decided to create a Cognos Custom Query Library of the top 25 and make them available via our website. These are shown below.
If you want to download a Cognos metadata Custom Query, simply click on 'download now', enter your email address and customer password and download the query. Going forward it is likely that some of the Custom Queries you see here will become part of NetVisn Analytics depending upon their popularity.
Note: To use these Custom Queries you must be using NetVisn version 6 or higher.