By Rick Ryan, Envisn, Inc.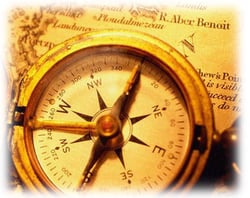 The Cognos Content Store holds some incredibly powerful information within it that can make life much easier for those charged with administering and supporting the Cognos environment. Some creative Cognos administrators have even managed to get Cognos to start reporting on itself.
Brave New World
The biggest step forward for Cognos administrators is when they work proactively in their Cognos environment rather than simply reacting to problems in a break/fix manner. Some of our NetVisn customers have taken started to do just that by creating their own workspace in Cognos focused on reporting key parameters of their Cognos environment. Some examples of this include recurring reporting on such topics as:
Failures – Reports/queries that failed to run successfully
Broken lineage – Objects that won't work because of lineage breaks
Missing objects – Reports that won't function because of missing objects
Distribution lists – Keeping distribution lists updated
Saved output – Ranked analysis of saved output by user
Triggers – Name and where used by object
Security – Changes made and by whom
The possibilities here are virtually limitless. Any information the Cognos administrator needs to know on a recurring basis about their environment. NetVisn was designed to access and make available any data that's in the Content Store. Basically every object and all its properties and parameters are available. This even includes users and their security.
Why is this important? Because if administrators can identify reports, queries or other objects with problems and get them fixed quickly, it's possible that it could be done in most cases before users ever experience a problem with that object. User satisfaction will automatically go up when the number of defective reports goes down.
Why not just use NetVisn for this analysis and reporting? Many of our customers do just that excellent results. But some have found that using Cognos Workspace advanced is a logical place to do much of this work since it enables the BI team to share this needed data more broadly across their environment. This also works to get report owners and other stake holders directly involved in the resolution of problem issues.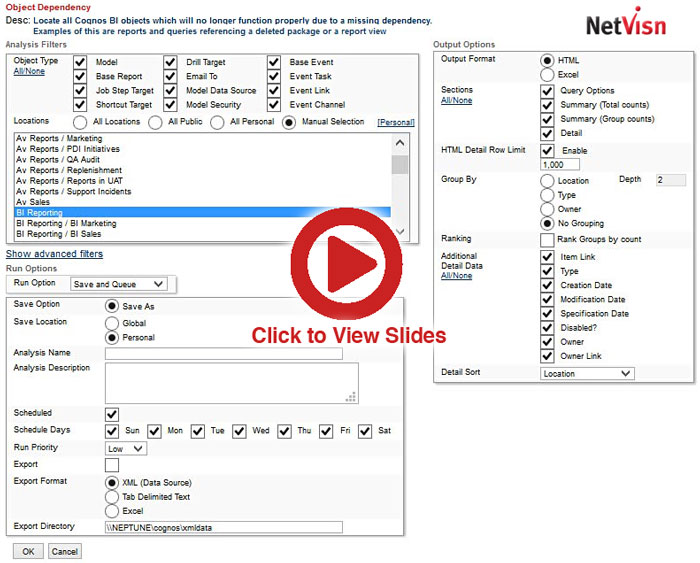 Most do this on at least a weekly basis but it can be done more frequently if needed. And this is particularly true in large environments. The process is simple:
1. Define and create NetVisn analysis report
2. Setup recurring schedule and create export feed
3. Create Cognos data source in Workspace advanced
4. Create report in personal workspace
5. Run report or setup an automatic schedule for it
Once created and scheduled they are automatically available in the administrator's workspace within Cognos enabling them to manage their environment. So the report on objects with missing dependencies can be updated on a regular basis.
The logical extension of this would be to create an administrator's portal where key Cognos metrics are tracked on a regular basis. This is already in the works and will enable setting targets in key areas and then managing to them.
Summary
Managing large Cognos environments can be a challenge in many cases because the data administrators need is often not available from Cognos itself. Using a tool like NetVisn makes it easy for administrators to get what they need and report on it in Workspace advanced along with any other subject data.
© 2015 Envisn, Inc., All Rights Reserved.