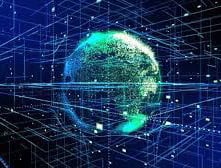 June 30, 2021 - By Jeff White, Envisn, Inc.
Report and query documentation in Cognos Analytics is rare enough, but finding FM model documentation that a given report or a set of reports is based upon is virtually non-existent. Envisn's NetVisn product has changed all that by including FM model documentation along with all report documentation and does this by providing easily accessible hyperlinks. The hyperlinks make it possible navigate from a report to its model or package and drill down into detail wherever and whenever needed. In Figure 1 we see the documentation of a report labeled Order Summary and below the general information about the report is a block showing the dependencies that this report is based on. This is both the package and the model itself.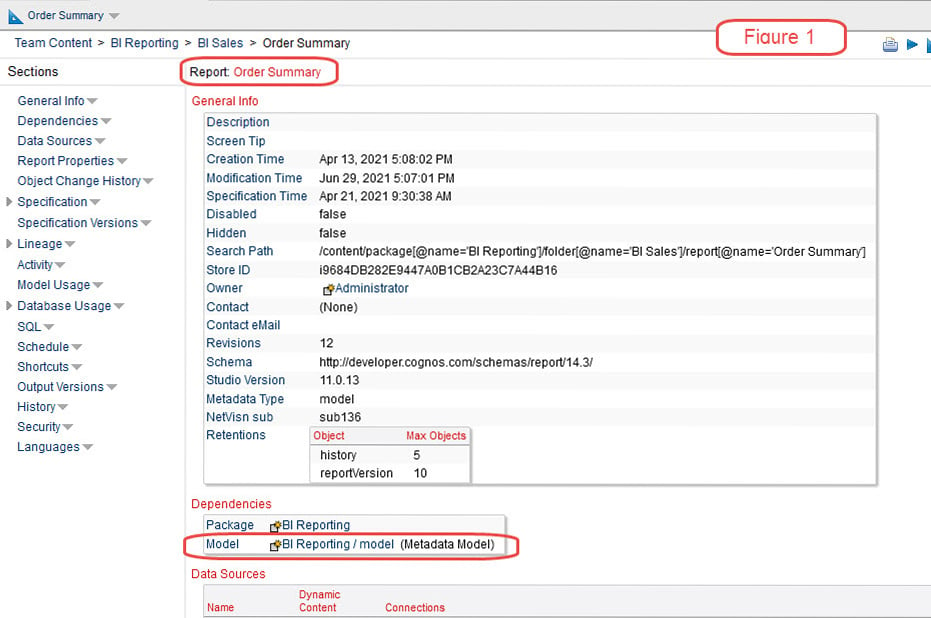 As we click on the hyperlink for Model documentation we open up to the key sections of the model as shown in the left pane of Figure 2. Again, each of these sections is hyperlinked to make it easy to get to a particular subject section quickly. At the top we see a matrix of the Namespace/Folders which helps to scope the overall size of the model. In this example the numbers alone indicate that this sample model is very modest in size. With very large models the section hyperlinks make it easy to go to a section quickly without having to scroll.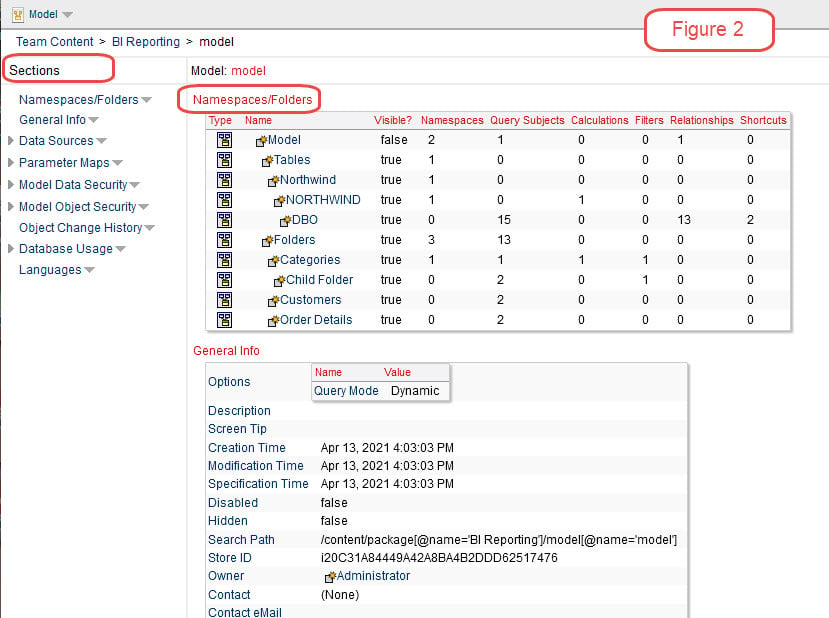 Within the Namespace/Folders matrix we want to focus on the DBO area as shown in Figure 3. This contains key information on query subjects, query subject categories, determinants, relationships, etc. We want to focus on relationships here to better understand the data within the model.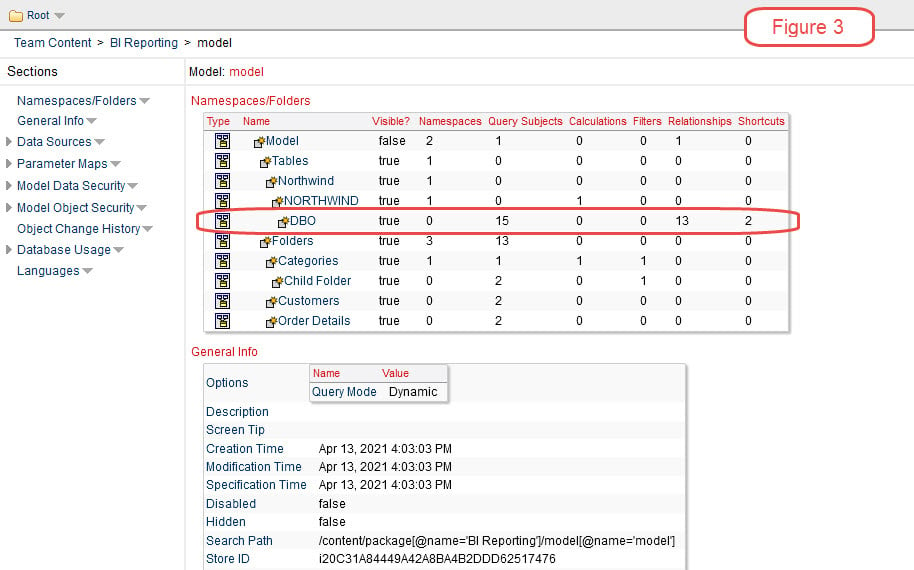 As we click on DBO hyperlink above and open up the Relationships section we see in Figure 4 that we have all of the joins made visible. This makes it easier to understand the structure of the data model. The example we are using here is of a very small data model for the sake of example. A real world model might have tens or hundreds of lines here for relationships. Not obvious in this static image is the fact that both the left table and the right table can be independently sorted when/if needed.

As we continue through the model documentation we see all of the details for model data sources, model data security, model item security in Figures 5, 6 and 7 below.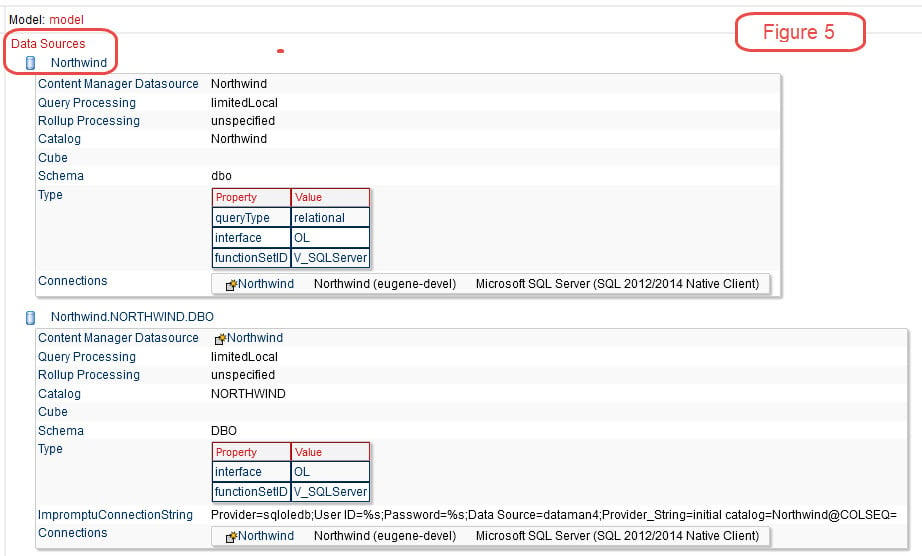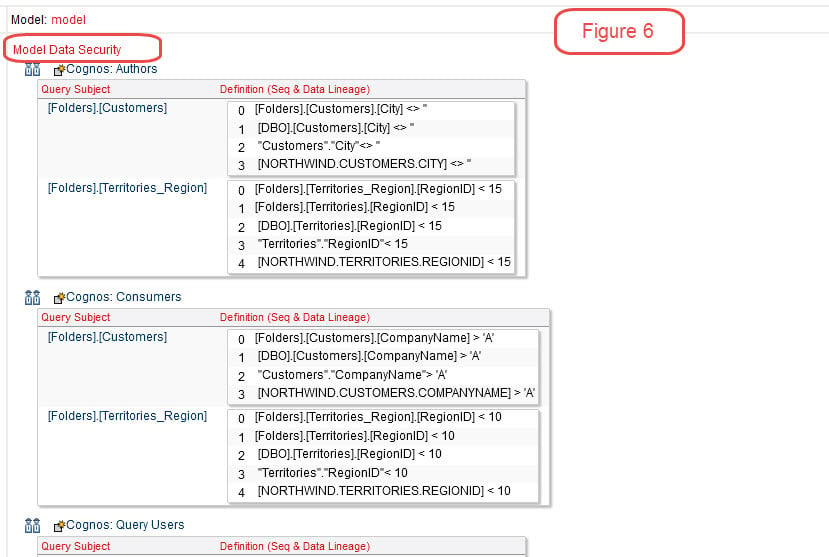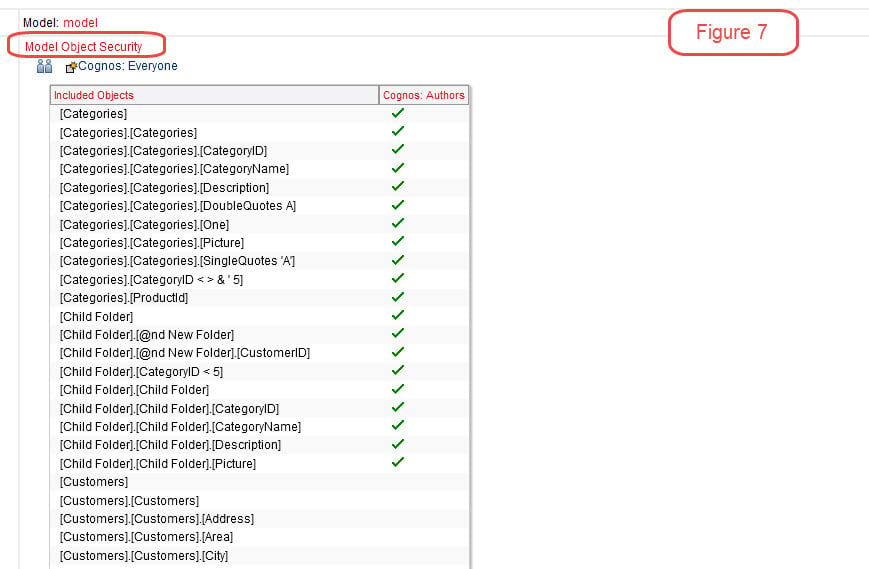 The nice thing about how this has been done within the NetVisn product is that all of the detail is right at your fingertips for both the object report in this case, and the data model behind it. With this simplified model example we can see how we have gone from detailed report documentation to the model and all of its sections with simple hyperlinks. This makes it possible to instantly see how a single report or a whole folder of reports based on an FM model is linked with the data, data sources, and its security.
Do you need this all the time? Maybe not, but when you do it's all there in one place, just a few clicks away without a tedious and time consuming manual search. That has to be worth something. Simple, fast, easy and 100 percent accurate.
© 2021 Envisn, Inc. – All rights reserved. Cognos Analytics Tools