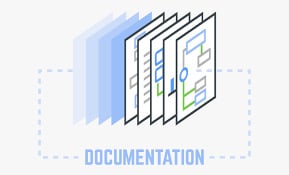 By Paul Hausser, Envisn, Inc.
Documentation in Cognos, where it exists at all, is generally thought of as something that is nice to have but is often only an afterthought. And if it's being done manually it is likely not complete, accurate or up to date.
Yet in virtually every Cognos environment change is constant as objects are created, routinely modified over time until they are ultimately replaced, or simply retired or discarded. Changes can include any number of things including:
Data items
Data sources
Calculations
Security
Schedules
Jobs

Package used
Owner
Active/Inactive
Modified date
Triggers
Filters
Documentation is often thought of as something that's captured at a given point in time. A static, somewhat detailed picture of a Content Store object, generally a report. And while that is often needed to validate data sources, calculations, etc., in many cases it does not go far enough since it only shows what it is now and not how it may have changed. This is important, especially in situations where something about the object is questioned or more detail is needed. Did the data source change? When was it changed, who changed it, and when? With static documentation those questions may never be answered.
Some organizations require a change control process to address those questions for every object in the Content Store, but the majority don't. And trying to do this manually is both tedious and time consuming. Plus, it also assumes that every change is captured by someone, but without a change control process in place, there is no guarantee that it will be.
In reality what's needed is life cycle documentation. Not only is documentation for all objects a necessity, but also the ability to see how an object has changed over time that also shows a record of all changes and the detail behind them.
Done the right way, it's possible to create a closed loop system that is fully automated in terms of creating documentation that contains every level detail including:
Detailed listing of all changes from one version to the next and the ability to see a listing of those changes over time.
The ability to look at all changes from any level of detail; change type, specification, security, schedule, configuration, date, job, etc.
A record of who made the change and the date the change was made.
The ability to analyze change history when needed.
Here we are looking at Cognos documentation examples from Envisn's NetVisn product. A key feature of this product is that as soon as the NetVisn software is installed the entire Cognos Content Store is automatically documented in detail. And as new objects are created, or existing objects are changed, this is automatically detected and a new version is created. This capability is tied in with the version control capability of the product that covers virtually all objects in the Content Store.
In Figure 1 below we see the specification for a report showing all of the data items in a report and the details behind them.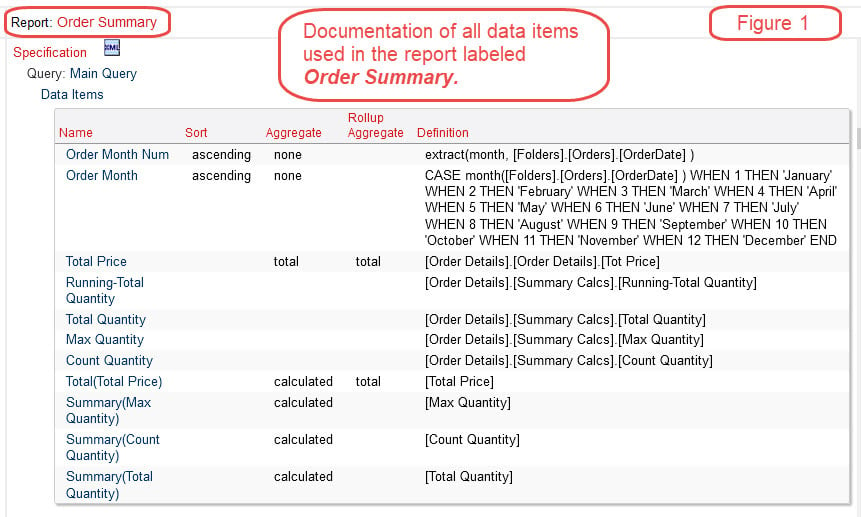 Figure 2 below shows all the version of the same Order Summary report along with detail of when it was created along with who made the change.
If more information is needed about exactly what changed between versions is easy to simply compare the versions either by looking at the detail in XML or looking at a query view of the key changes. These options allow whatever detail is needed to be presented.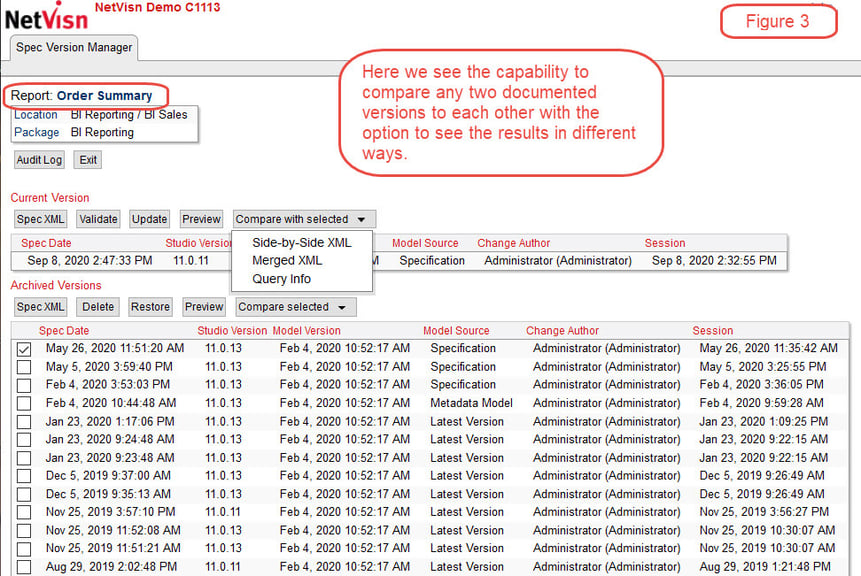 In Figure 4 below we see exactly what the major changes were between two versions with different time periods.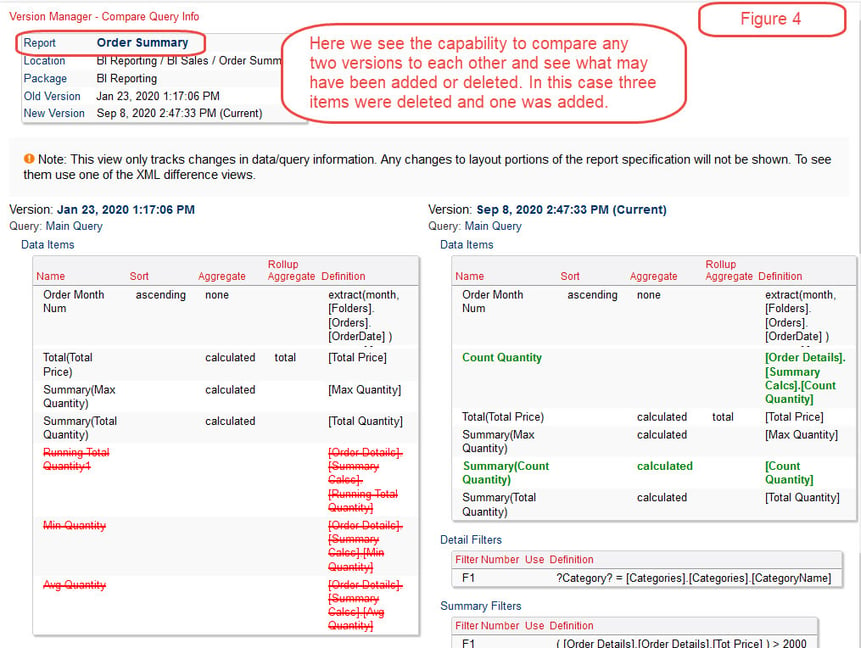 Often what's needed is a simple list of key changes that have occurred to the object by date. In Figure 5 we see a summary of changes by date going back over time.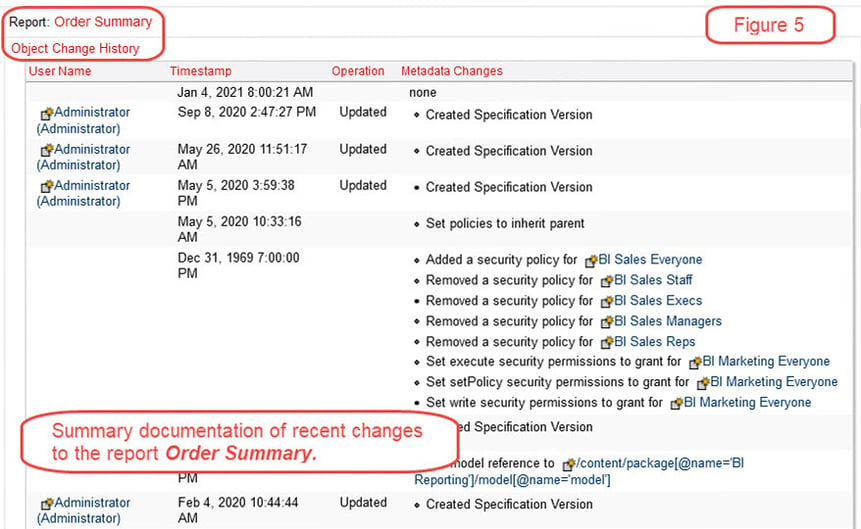 Because change is pervasive across Cognos there are often times when it's necessary to be able to see what changed and when across the entire Cognos environment. The Audit Monitor capability makes it possible to search across all of the documentation to find specific change types, action types, object types, object name, location, etc. This kind of flexibility is essential to be able to access all change types whenever needed.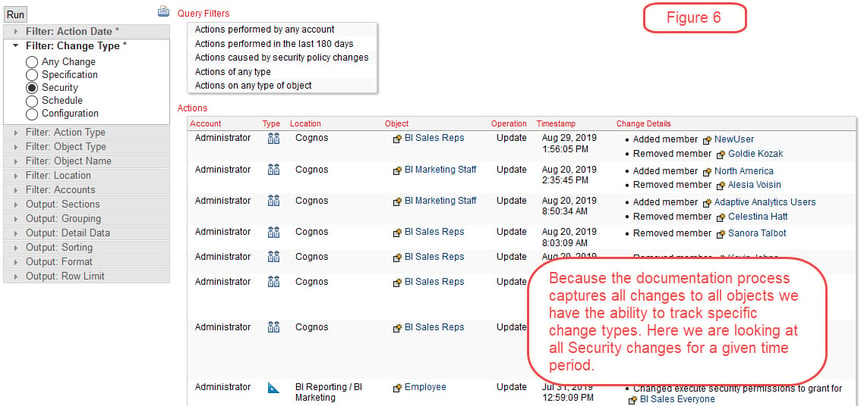 Summary
Life cycle documentation provides a much broader view of the dynamics of change in any Cognos environment. And when done automatically it guarantees that no changes are missed and requires no resources to manage it. It also provides complete answers to any questions that come up with 100 percent accuracy, more than enough to satisfy any audit requirements.
All of the examples shown here are using the exact same metadata captured from the Cognos Content Store. A different view may be simply displaying the same metadata in a different way.
© 2021 Envisn, Inc. – All rights reserved. Learn more about Cognos Documentation with NetVisn