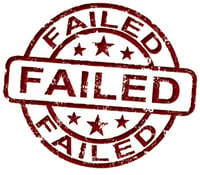 By Paul Hausser, Envisn, Inc.
One of the biggest challenges in managing a Cognos environment is how to identify and deal with failed reports. This blog is focused on the best way to address this problem.
Failed Reports in Cognos 10
Using the Administration feature in Cognos 10 you are able to identify failed reports but the way this is done has some limitations that make it difficult to quickly manage and resolve these. Some of these issues include:
There is no consistent location information provided on failed reports.
No ability to aggregate failed reports. For example, it might be good to do this by owner and/or location for faster problem resolution.
Owner detail is not available at the summary level (see Figure 1), and in some cases, at the detail level.
Cognos retention data not available such as number of days or schedules.
No ability to be able to see errors or problems over time by object.
It's not possible to do any trend analysis of this data.

In a large environment where there are likely to be a number of failed objects it can be very tedious to have to sort through this detail data and aggregate it manually. What's needed is some flexibility around being able to select the detail information you need and then be able to aggregate it the way you need it for getting these reports fixed.
A Better Way?
Envisn's NetVisn product is able to address many of these shortcomings and makes it possible to get all the key information at once.
Figure 2 shows how we can use the analytics capability within NetVisn to select the object types we want to look at and also the execution status. Here we're selecting all object types and failed status. We can also select how we want this data grouped (location) and what additional data we want included with it such as owner execution date, owner, etc. This will enable us to get this to the owner of each object so it can be fixed.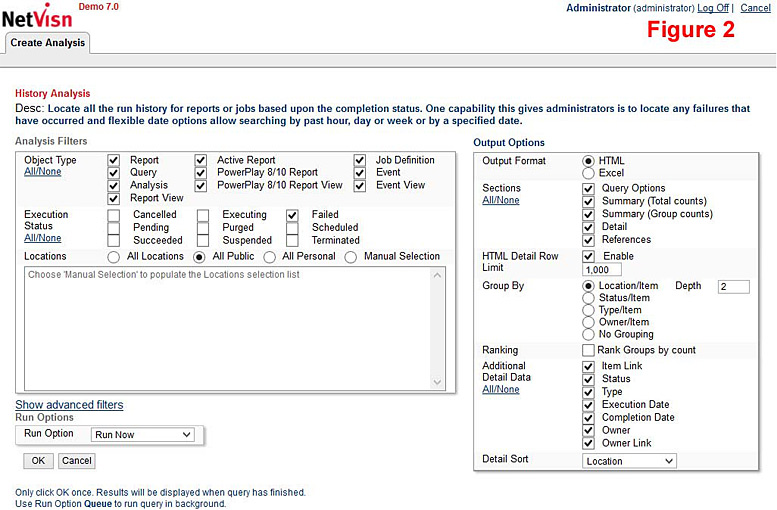 In Figure 3 we see that results of our analysis that shows the detailed information for the report Order Details by Page which is scheduled to run on a weekly basis. This includes folder location, status, execution date/time, completion time and owner. It also includes an error message; in this case it appears to be an unresolved prompt. NetVisn also has the ability to do mass updates for reports that have problems with data lineage, missing objects or other issues so getting these fixed quickly.
In Figure 4 we see part of the NetVisn documentation for this report showing history for the past 10 weeks. Note that this shows that the report ran successfully for the past two weeks after it was fixed.

The user also has the option to output to Excel so if you wanted to sort this information by report owner, for example, you could send this information directly to the responsible person for each object.
Summary
The most important thing for a Cognos administrator is to maximize up time performance of their environment and minimize the amount of time devoted to routine tasks they have to deal with on a daily basis. Having the right tools to do this quickly and easily is essential to being successful.
© Envisn, Inc., All Rights Reserved.