By Paul Hausser, Envisn, Inc.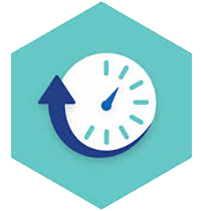 One of the biggest challenges for any Cognos Analytics administrator is maintaining operational uptime for all content in the Content Store. This can be a challenge since outside of a major system failure, the major problem is that of individual objects failing when a user attempts to access them and then hoping that it gets reported and fixed. This is frustrating not only to the user who doesn't get what's needed, but since the user may not always report this, it remains non-functional until someone actually reports it and it gets corrected.
What's needed is a means of quickly and easily identifying those objects across the Cognos environment that are non-functional, and ideally be able identify the problem that needs to be fixed to make them operational. It turns out that Envisn's NetVisn product has the capability to do both of these things and more.
There are two broad categories of non-functional objects:
Broken data lineage – One or more of the data items in the report are not connected to the correct data source. An example of this is where changes have been made to the data source and the report has not been updated to reflect that new data source.
Missing objects – These are dependencies that are required for the report to function. It can be as simple as a missing base report required by a view report, or a missing drill thru target or a missing distribution list needed for a report that is scheduled to be run on a regular basis. This will also identify any security issues with the object such as a model reference to an invalid security object.
These two categories cover nearly 100 percent of possible reasons why reports may be non-functional in a Cognos environment.
Broken Lineage
So how is this done? The Cognos administrator or developer simply runs an analysis using NetVisn to identify those objects that have broken data lineage. This can be done selectively by package or across the entire environment. See Figures 1 and 2 below.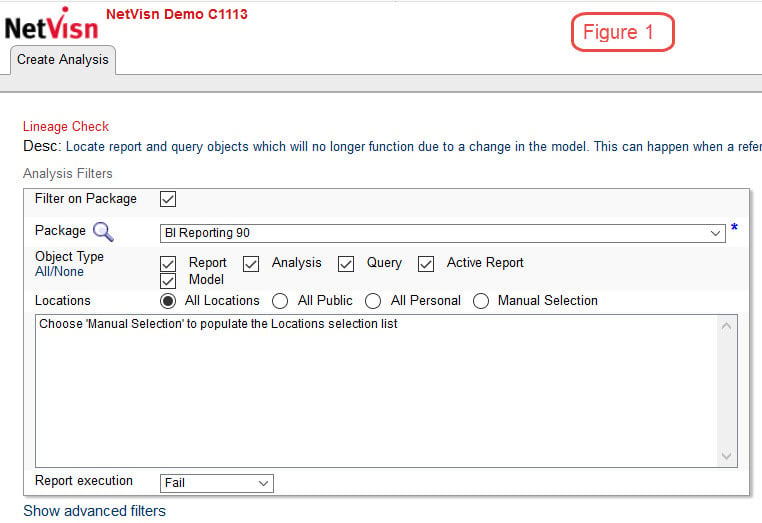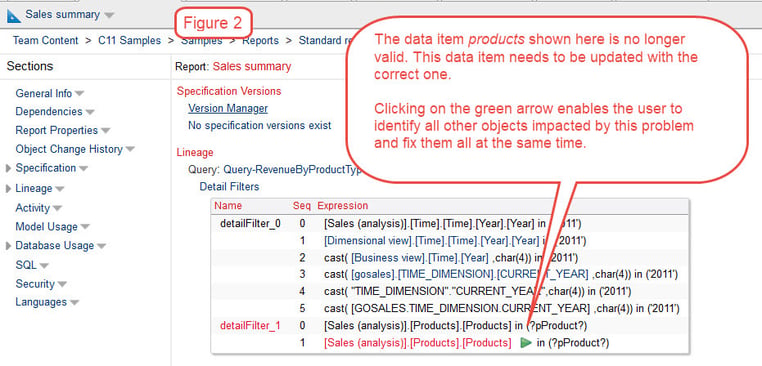 Does this do everything for you? No, but close to it and here's the thing, the problem(s) with the object is identified for you so you don't have to waste a lot of time trouble-shooting to figure it out for yourself. This makes it easy for the report owner to simply focus on fixing the problem. And by knowing exactly what the problem is reduces the time needed to correct it by up to 90 percent.
And in the case of broken data lineage the analysis can identify all other objects impacted by this same problem and they can all be fixed at the same time. So if it's two objects or two hundred they can all be corrected at once and made operational again.
Missing Objects
Identifying missing objects is done in a similar manner by running an analysis of objects in the Content Store that have one or more objects with missing dependencies. Figure 3 shows the analysis to be run to identify these selectively by dependency and location.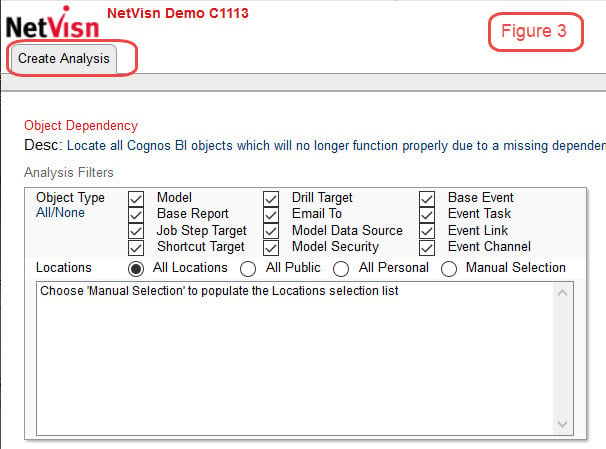 In Figure 4 we see those objects by location that have missing dependencies. Some objects may have more than one dependency missing.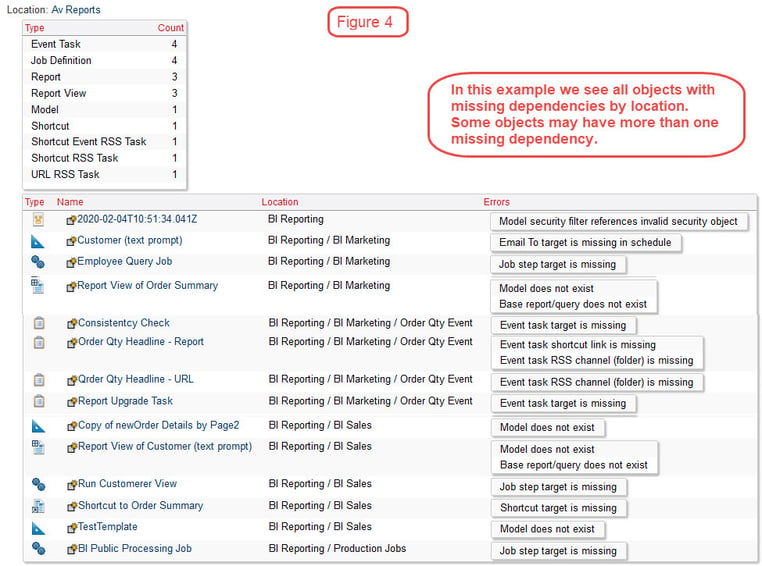 What both of these capabilities also point out is that since it's easy to see what objects are currently non-functional across the entire Content Store, it is also possible to see which objects are dependent upon which data sources across the Content Store. This make it possible to do impact analysis where you can identify which objects are using which data sources and data items, thus allowing you to make changes to data sources in a planful manner and avoid any objects with broken data lineage.
Summary
How much is it worth to be able to identify all of the non-functional objects in your Content Store and to easily fix them? Just simply identifying them has got to be worth a lot since without any tools to help you, you're at the mercy of waiting for someone to report each one and then waiting to see if it gets fixed in a timely manner. In today's world maximum uptime for Cognos Analytics is what users expect.
© Envisn, Inc. – 2020 – All rights reserved.