February 27, 2013 by Rick Ryan, Envisn, Inc.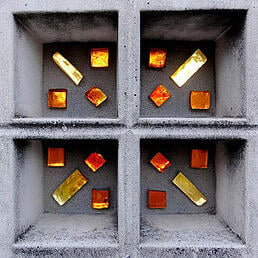 IBM has managed to successfully integrate Cognos into the fold, maintaining and improving its position in the BI market while leveraging the Cognos acquisition into a broader position in the expanding analytics market as Big Data overtakes this space in terms of hype if not reality. One measure of this success is the annual report card on the BI market that Gartner puts out and is referred to as the Gartner "Magic Quadrant". This is a simple and effective way to measure a broad range of players, their role in the market and how they rank relative to other players. Expanded this year to include analytics along with BI, the latest iteration of the Gartner report for 2013 is shown below.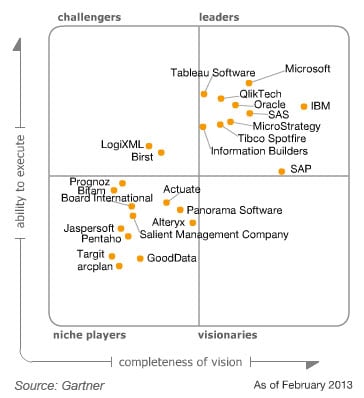 There are three categories of criteria that Gartner uses to evaluate companies in this market and within each of these categories there are a total of some 15 specific criteria. The major categories are:
Integration – Covering BI infrastructure, metadata management, development tools and collaboration.
Information Delivery – This covers reporting, dashboards, ad hoc query, Microsoft Office integration, search based BI and mobile BI.
Analysis – Online analytical processing (OLAP), interactive visualization, predictive modeling and data mining, scorecards and prescriptive modeling.
As the quadrant shows, there are two groupings here; niche players and market leaders. Not surprisingly, those companies that stand out in the upper right of the quadrant are those that have done the best across all the criteria and have a strong base in the data management area. IBM in particular stands out reflecting what it has been able to do in this market since its acquisition of Cognos five years ago.
A full reading of the report behind the Gartner magic quadrant reveals a number of key things about where IBM is and where it's heading. The key points are:
IBM Cognos continues to maintain its leading position on the Completeness of Vision axis. This is a strong endorsement of its message around its core BI and predictive analytics and should give its customers comfort that they signed on with the right company.
During 2012 IBM further strengthened its BI and analytics offerings both organically and through acquisitions. This includes Cognos 10.2, Cognos Insight, SPSS Modeler 15 and Analytical Decision Management 7.0. It is also making it easier for customers to purchase, use and maintain its products.
With Cognos Express IBM has improved its ability to address departmental, workgroup or smaller company analytics. This is a back to its roots move for Cognos and enables it to compete more effectively with QlikTech and others in the low end of the market while offering a broader avenue for growth.
Analytic Answers is another significant offering recently added. It's an analytic platform with prebuilt, domain-specific data models with relevant analytical and statistical capabilities that offer answers to industry specific questions. This is potentially a big deal. Why? Because while there are many workers that lack analytical skills, most know their jobs well enough that if given information about their own work sphere performance in a context they can understand it can be very powerful to improving performance. Advance analytics at the individual and work group level can have a huge potential impact.
The top reasons why customers select IBM are road map and future vision, product quality and its ability to integrate with information infrastructure. It scores significantly above average in this area.
Summary
Of all the major BI and analytic companies that appear in the Gartner Magic Quadrant (IBM, SAP, Oracle) largely through acquisitions, IBM is seen as having done the best job integrating BI into their product portfolio, leveraging Cognos' strong market position and aligning itself well against the future needs of this expanding market. Look for the magic to continue.
© Envisn, Inc., All rights reserved. Business Intelligence Software Solutions for Cognos

Image by EditorB