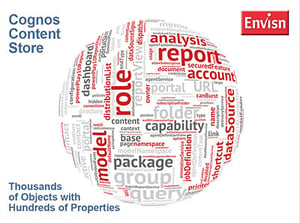 By Rick Ryan, Envisn, Inc.
One of the goals we set at the beginning of this blog series on Cognos metadata was to access all of it and to be able to use all of it to answer virtually any question anyone would ever have about their Cognos environment(s). In support of this it became almost inevitable that at some point we would be called to do this. Not just once, but multiple times.
For all of this Content Store metadata we've talked about in this series we have a robust reporting and analysis capability that goes broad and deep. But even with this available we began to see clients asking for data that was important to them but not something we had envisioned. In those cases we created custom queries to meet their needs. Since we're using an XML database it's easy to combine dissimilar data without having to worry about joins. Some of these requests are easy to make part of our standard analyses, but others are likely to remain low frequency needs though still important to those that need them.
Examples
In Figure 1 we see a part of the documentation of a model labeled BI Reporting. In addition to the items shown this Cognos query also includes the database name, tables and columns (not shown).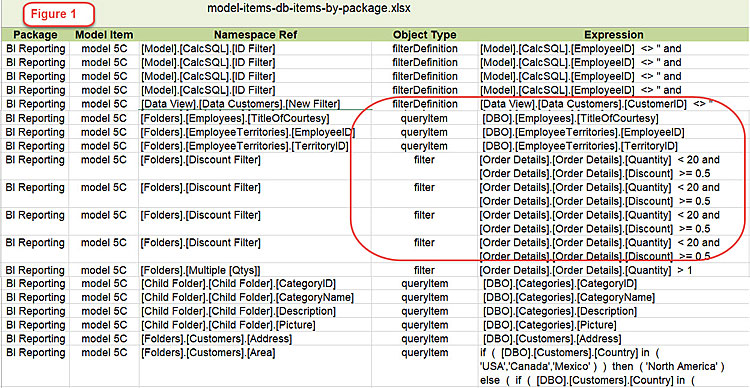 So what is the use case here? In this specific example it's monitoring filters for discount used. But with this same query could also be used for:
Validating source data
Comparing updates between new source data versus prior versions
Refactoring a current Framework Manager model
Identifying where specific filters or codes are used across the environment
Another example of access to everything is shown in Figure 2. Here the use case is the need to determine the frequency of usage of individual model items across the Cognos environment. Framework Manager models are often very large and may contain numerous items that are never used of used infrequently. Eliminating redundant content can reduce complexity and make it easier for users to find what they need.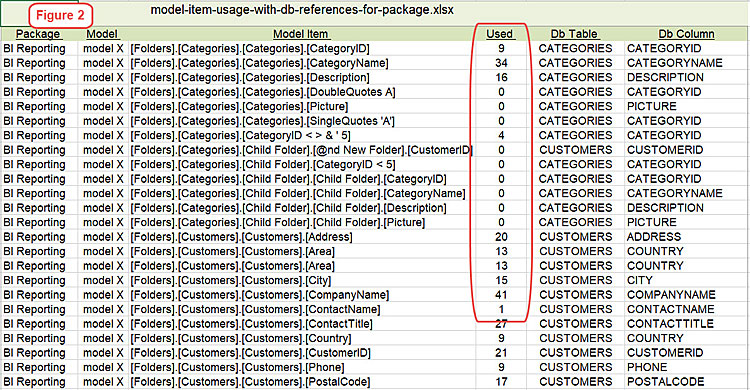 In Figure 3 below we see examples of other queries designed to access many different types of metadata around Cognos reports.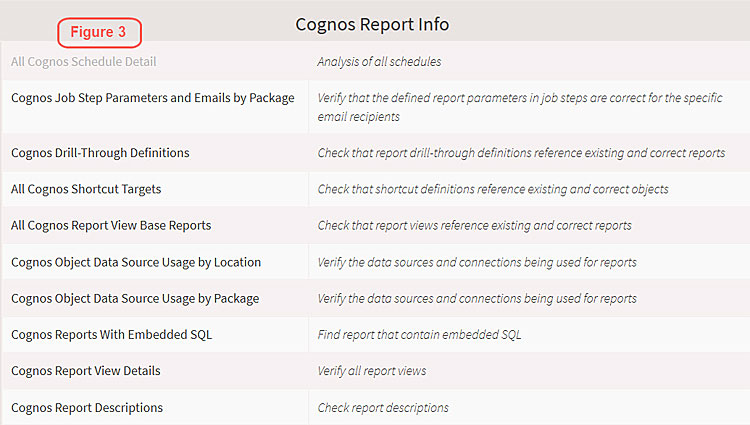 Summary
As the IBM Cognos products have evolved with greater capabilities they have also become more complex in terms of supporting and administering them on a day to day basis. Developers and administrators need access to all of the metadata in a way that gives them what they need in terms of specific information or to manage recurring tasks. Having the ability to do that quickly and easily to get exactly what's needed has a lot of value.
You can see more about Custom Queries on our website.


Do you have a unique need for Cognos Content Store metadata? Give us the challenge of solving it.


© Envisn, Inc. – 2018 – All rights reserved.