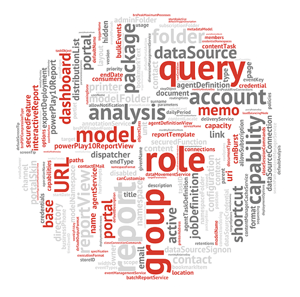 By Elwood Philbrick, Envisn, Inc.
This blog is different from any other we have done. All of our previous blogs have been about Cognos Analytics on subjects that help Cognos administrators learn more about what can be done with access to everything in the Content Store. This blog is focused is on how we have been able to do that.
Readers of our blogs will recognize that most of the examples used in them came from our NetVisn product. This was not done for self-serving reasons but because of the fact that, for most or all of what we were writing about simply could not be done any other way. For example, the seven part series on Cognos' Metadata Universe, or the series on Impact Analysis required a level of detail on Cognos' metadata that could only be provided by NetVisn. The same is true on the series on Cognos Security and many more. The list is long.
Earlier this year we began exploring ways to better inform our website visitors on the importance of having the right tools. It quickly became obvious that video offered the best opportunity for doing that. With that, we set out to create an explainer video for NetVisn. This was more of a challenge than we expected and it took some time to create.
A key goal for the explainer video needed to be differentiating NetVisn from other products. Why? Because it's a truism of marketing that ….. You can't be better if you're not different! And NetVisn is fundamentally different from any other product out there in the marketplace.
NetVisn is different in two key ways:
All of the tools needed for managing key tasks and administering Cognos are an integral part of NetVisn. NetVisn provides access to all of the metadata in Cognos in a way that allows it to be used for whatever you need.
NetVisn's advanced architecture makes all this possible. Eliminating the frustration of trying to extract metadata directly from the Content Store. Plus, with NetVisn there are no limits on the types of metadata that can be accessed and used together making it possible to do things like custom queries that can answer any question about your Cognos Content Store.
Take a look for yourself. It's only two minutes of your time. Use the link below:
How well did we do? Use the comments blog below to let us know what you think or send an email to info@envisn.com
© - Envisn, Inc. – All rights reserved.