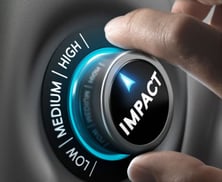 By Elwood Philbrick, Envisn, Inc.
In this second part of this blog subject we are going to focus on some less traditional areas of impact analysis in Cognos Analytics but no less important. These are:
Object dependency
Data lineage
Object failure history
These three categories all have one thing in common and that is they all relate to the overall health of a Cognos environment. It is typical that a mature Cognos environment will at any given time have between 15 – 20 percent of its objects non-functional. We know this from data we've captured working with customers that have recently installed our NetVisn product in their environments. Reasons for this typically relate to broken data lineage or missing objects. Analyzing object failure run history also yields valuable information on causes of failure that can be easily corrected.
Object Dependency
This relates to objects that rely on other objects in order to execute properly. An example could be a distribution list that's needed in order to get a report to those scheduled to receive it. Another example is a base report that's required for a view report to execute properly.
In Figure 1 we have selected an object dependency analysis that we will perform on reporting objects using the package BI Reporting. This analysis lets us select the types of dependent objects we want to look for on the reporting objects using that package. In this example we've selected all of them.
In the right pane of Figure 1 we can select the level of detail we want with this analysis as well as any additional data to be included in the analysis.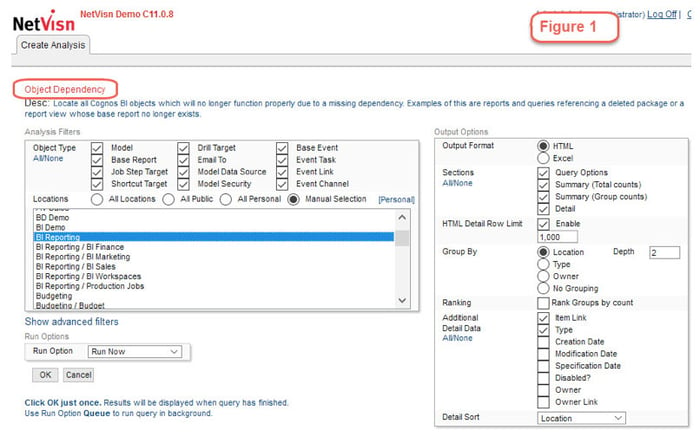 Figure 2 shows the results of the object dependency analysis. There are a total of 19 issues identified and as we can see under the Errors column, some objects having more than one issue affecting its status. Obviously, none of these objects will become functional again until these issues are successfully resolved.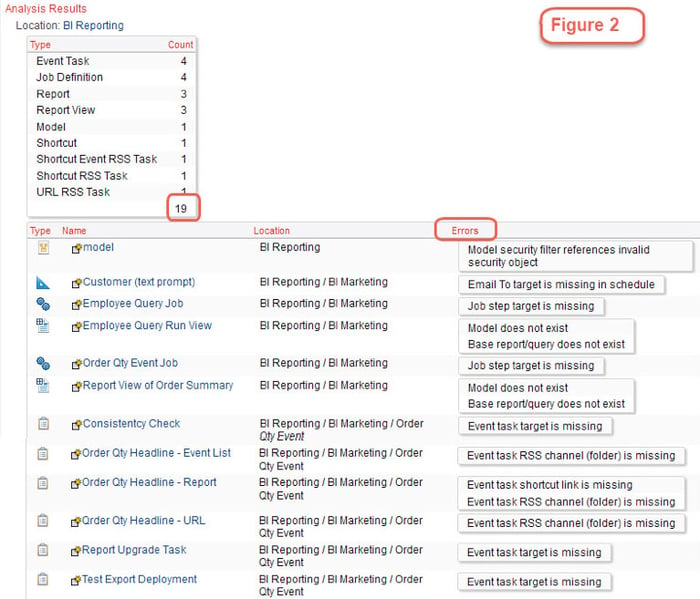 It's possible to do this type of analysis against the entire Content Store at once. Doing this broad analysis first should often be the first step if only to do some sizing on how big an issue object dependency is in total. Then you can work your way through resolving these issues folder by folder.
Data Lineage
Breaks in the data lineage can occur for a number of reasons. Model items may have changed without understanding what the impact would be of making one or more model item changes in a planful way. There are also other reasons for broken lineage but the end result remains the same. If a single data item on a report has a lineage break the report will not execute successfully.
In Figure 3 we will be doing an analysis to identify objects with broken data lineage. In this example we will be looking to see how many objects have broken lineage across the entire Content Store.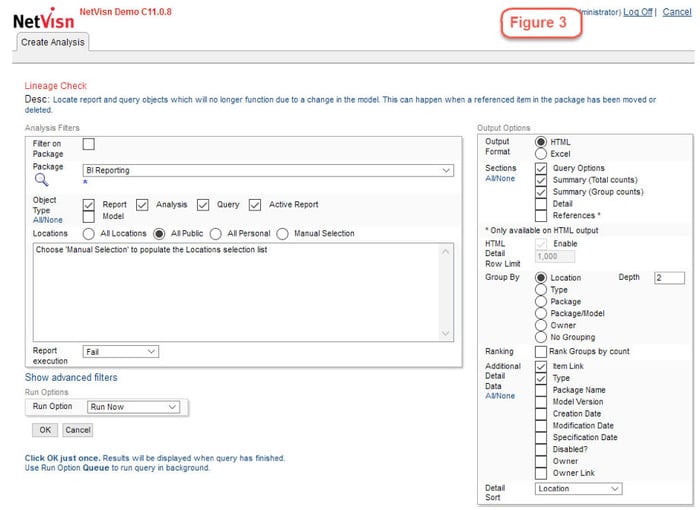 The results of our analysis show a total 173 objects have lineage breaks in the Content Store.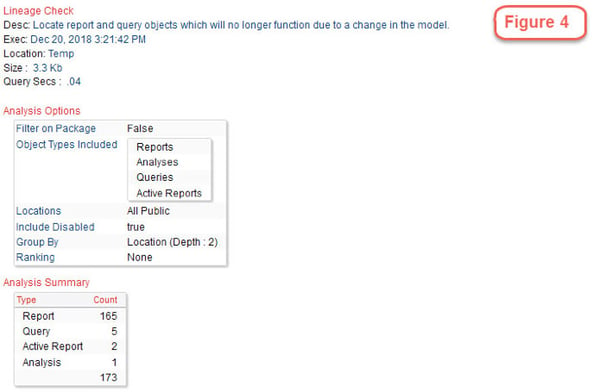 Filtering on the package labeled BI Reporting we see that there only one object with broken lineage using this package shown in Figure 5 . Note that the detail shows the specific item in the lineage that is no longer valid: PhoneNo.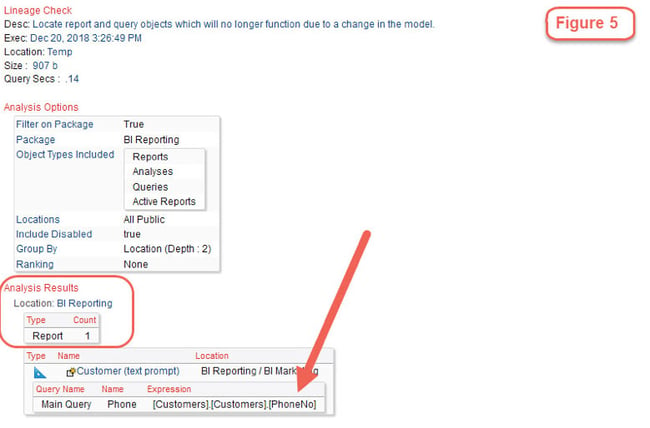 If we go to the detail documentation of that report we see the data lineage for all of the items used in the report. The item PhoneNo is highlighted in red indicating broken lineage. The green triangle shown beside the item enables the user to identify any other objects across the Content Store using this same item and to fix them all at the same time by doing a mass update.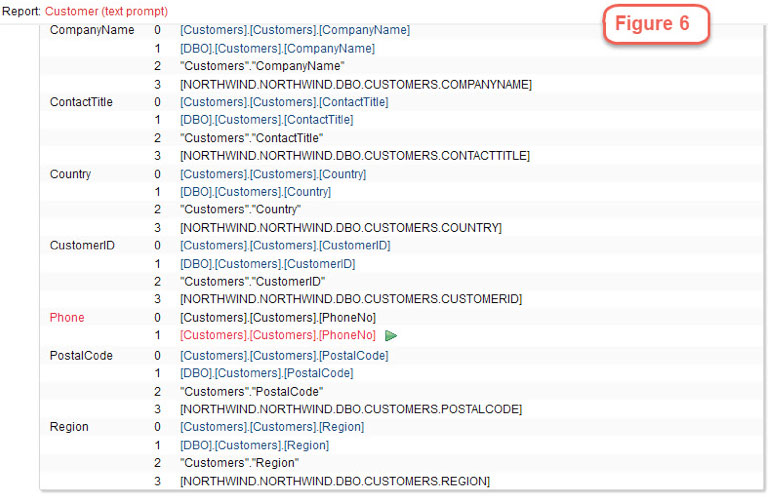 Object Failure History
Being able to look across the entire Content Store and identify object failure history is another means of insuring that all objects available to the user base are functional. Objects that have a high or consistent failure rate need to be addressed.
We can run an analysis to see how many objects in the Content Store have failed.
Figure 8 shows the results of the analysis. There are a total of 125 reports that have a history of failure. The next step will be to look at some detail.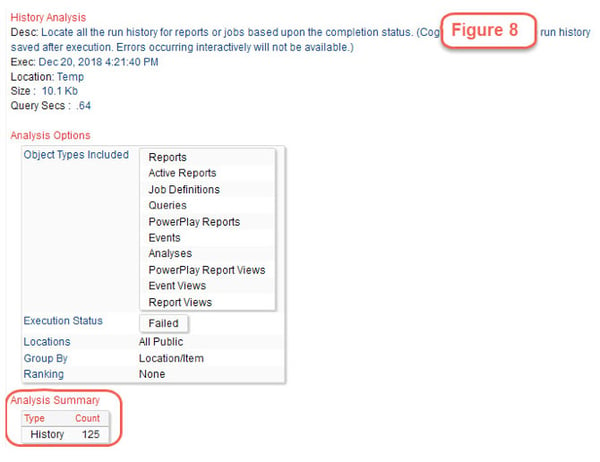 Figure 9 shows the details for a single report labeled Gross Profit by Region. The item Gross Profit does not exist and this is causing the report failure.

Why It Matters
With the examples we've highlighted here it is difficult or impossible to easily identify these issues within Cognos Analytics itself. Troubleshooting these types of problems is often be a tedious process of trial and error unless you're able to do these types of analyses quickly and in a manner that can trap all of the problem issues at once. And this is what your user base expects. All objects that are available should be fully functional at all times. Nothing less!
For more on this subject check out a related blog series on the Cognos Metadata Universe. With the right tools to use all of this metadata, impact analysis and the change that goes with it becomes a routine set of tasks to be done on whatever basis is needed.
© Envisn, Inc. – All rights reserved. Read more: Impact Analysis in Cognos Analytics - Part I

Learn more about Cognos Data Lineage in NetVisn