By Elwood Philbrick, Envisn, Inc.
Previous blogs in this Cognos Metadata series focused capturing the metadata, the need to persist it and how to use it. Here we'll be focusing on metadata drivers and how they are changing.
Drivers of Cognos Metadata:
Larger Environments – In the past many organizations often had more than one BI or reporting system. Today virtually everyone has settled on a single system for this. It's just too costly to maintain more than one.
More Content per User – Amount of content (objects) per user has increased by 40-50% over the past decade. Much of this has been driven by users having the ability to create their own reports and by creating views on existing standard reports. More content and more complex content. It's not uncommon to see highly complex calculations using only a few data items. Foreign currency trading is an example where this is true. Other examples can be even more complex and result in nested calculations three or four levels deep or more. Each of these has to be decoded sequentially. Having actual documentation of the metadata used and how it is used is essential.
Changing Environments - In many Cognos environments the process is different from what it was even a decade ago. Back then it resembled more of a steady state environment with a content profile that, once developed, changed relatively slowly if at all. Today's environments typically represent more of a flow process of steady change in content constantly evolving over time. Thus, the creation of more metadata and the need for tools to better manage it like version control, deployments, etc.
Data Provenance – Many large companies need to know what data from vendors or customers is being used for reporting within the organization. Or even how company data is being shared with vendors. Privacy concerns are behind much of this but there's more of an understanding today of the value of data and the need to be able to link reporting data to its source.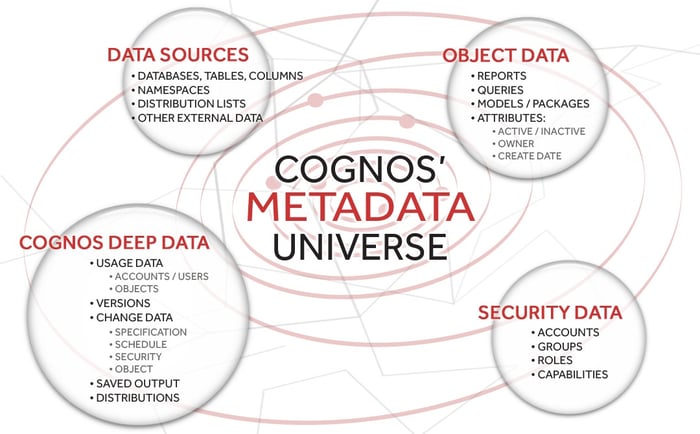 Going Forward:
Dashboards – Dashboards by definition generally use more data items than the average report. And the relative ease with which one can create a dashboard in Cognos Analytics is generating a lot more metadata in the typical Cognos environment. This is likely to continue as users become more familiar with dashboards and they inherently become more complex.
Data Modules – This relatively new feature makes it possible to use data items from two or more FM models. Unfortunately, this metadata is currently encrypted by Cognos and not readily accessible. Whether or not this will change in the future is unknown but for now you'll have to get along without it. It's there but not accessible.
AI – While still in its infancy in terms of BI and Analytics, Artificial Intelligence has the opportunity to totally remake this whole ecosystem. Most of today's reporting and analytics is usually the product of a single individual or a limited group of people creating content that meets a particular set of needs. AI has the ability to see more broadly and deeper and discover relationships that just are not visible in much of today's reporting. Watson already does some of this but it holds the potential to do far more. Look for this to expand more rapidly in the future and become a driver of more metadata.
As we have attempted to show in this series of blogs on Cognos metadata there is virtually no limit to what you can do with the right metadata architecture and the tools to use it anyway you need to. These make it possible to combine metadata from the Content Store, security (name space files) and data sources in virtually any combination you can conceive. It gives you all of the following:
A more secure environment.
Higher level of operational readiness.
Access to all of the information needed to manage it.
Easier change management and operational control.
All of this metadata is being created whether you use it or not. Why not get in front of it and use it to your advantage?
© Envisn, Inc. – 2018 – All rights reserved.